It happened. I honestly didn't think that this would happen while I was still in my twenties, or even in my thirties... and I certainly never expected it to be within the year that DOMA was struck down. But after years of fighting and getting ourselves out there... showing that we are normal members of society and that we have the same capacity to love and cherish a spouse and raise beautiful children, Utahns have gained the right to get married in the state that we love. Judge Robert J. Shelby, District Judge for the United States District Court for the District of Utah wrote in his 53 page decision,
"The state's current laws deny its gay and lesbian citizens their fundamental right to marry and, in so doing, demean the dignity of these same-sex couples for no rational reason. Accordingly, the court finds that these laws are unconstitutional."
Couples are lined up at city hall in Salt Lake County, Davis County, and Cache County. Seth
Anderson and his husband Michael Ferguson were the first couple to be married, and in early reports it looks like over 200 liscences have been issued. Salt Lake City Mayer Ralph Becker has announced that he will stay all night if nessessary to perform marriage ceremonies.
Seth and Michael
Mayer Ralph Becker
I am so proud of my city!! I am proud to be a citizen of this great state.
The state of Utah has already filed an appeal from the 10th Circuit Court of Appeals, and filed for an immediate stay of the ruling. As far as I'm able to see... a stay has not yet been granted, but we'll see if one comes through tomorrow morning. While it's disapointing, it was certainly expected. I hope and pray that the pathetic reasons that are being argued in support of discrimination, will be swept aside. And if they do stand, I hope they refuse to issue marriage liscences to couples who are no longer of child bearing age, and refuse to allow couples to have children, when they won't follow "responsible procreation" or be raised in "optimal child rearing enviornments".
When I heard the news, I was sitting at my desk at work, and immediately after I read the message from a friend alerting me of the news, I started crying. Tears streaming down my cheeks, and a huge smile spread across my face. I'm sure I looked like a fool. But it was one of the most monumental moments of my life.
The Church has also made a
statement
after the announcement,
"The Church has been consistent in it's supporter of traditional marriage while teaching that all people should be treated with respect. This ruling by a district court will work its way through the judicial process. We continue to believe that voters in Utah did the right thing by providing clear direction in the state constitution that marriage should be between a man and a woman and we are hopeful that this view will be validated by a higher court"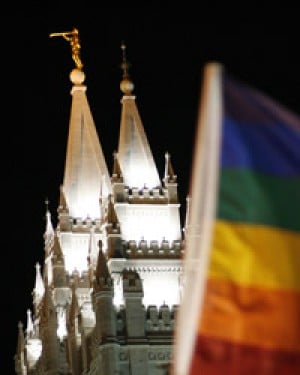 One day I hope that the Church I love so much will one day recognize the words of our Savior, quoted from
John,
"A new commandment I give unto you, That ye love one another; as I have loved you, that ye also love one another."
It is also my hope that the leadership reads the declaration given by Joseph Smith on August 17, 1835 in the 134th section of the
Doctrine and Covenants
. Verse 4 reads,
"We believe that religion is instituted of God; and that men are amenable to him, and to him only, for the exercise of it, unless their religious opinions prompt them to infringe upon the rights and liberties of others..."
Verse 9 reads,
"We do not believe it just to mingle religious influence with civil government..."
We are a Church that has faced discrimination in the past, with a extermination order issused against us. We know, more than many religious and civil groups, the bitter sting of discrimination under the law.
Today, I am recognized as normal. I will be able to call my (one day) wife, my wife! I won't have to call her my "partner". Partner has always felt cold, distant, and not real. Now I can say I'm "married" without it being a lie. I'll be married rather than being eternally engaged to my girlfriend. I am now protected by law... laws without any pretty exceptions that they have to put in there so that people cannot deny me a home, or employment solely based on my sexuality.
I am free. No one can cage me now.